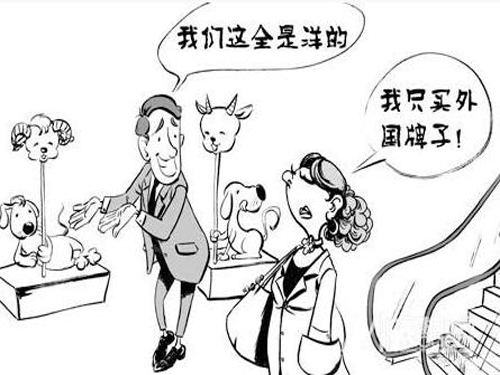 Do not think that the phenomenon of Da Vinci's avalanche furniture fake exists only in the home industry, in fact, the apparel industry's "false foreigners" are also numerous.
On July 10th, after CCTV's "Weekly Quality Report" broadcasted the report "Da Vinci's sky-high furniture "foreign brand" was accused of fraud, one stone sparked a wave of waves that triggered people's suspicions about the true identity of the "foreign brand." . 10:46 pm that night, Masamasuo
Men
's brand CEO Sun Hong published microblogging "the airport so many clothing brands, all known as Italian clothes imported, in fact, the same way as Da Vinci furniture. This is a hidden rule in the industry. Ten items of clothing were re-imported and the import orders were obtained, but orders were given to domestic factories, each with thousands of items, all of which were imported.The price was more than ten times that of selling.
According to industry insiders who have been engaged in the apparel industry for many years, the so-called "Da Vinci phenomenon" is very common in the apparel industry. At present, at least half of the mid-to-high-end garments on the market are "false foreigners." At present, more than 80% of the clothing in the shopping malls are called "foreign names," and at least half of the clothing brand origins come from places like Guangzhou and Dongguan.
A lot of domestic small workshop clothing, just go abroad to register a circle, come back and advertise themselves as Made in Italy, Made in Germany. . . . Gorgeous storefront decoration, foreign models brochures, coupled with a cursed foreign name, it looks entirely imported international clothing. Due to the "imported" label, its value is naturally the way to sing triumphal songs.
Recently, the "Europe's top men's wear brand", Karl Denton, who has been exposed by the media and who specializes in high-end and fashion routes, is actually only registered in Italy and has no factory production. It is actually a domestic brand.
The "Da Vinci Code" of counterfeit goods has caused many consumers who bought counterfeit goods to complain about the problem of shoddy clothing prices, imperfect after-sales services, and rigorous supervision, leading consumers to struggle to maintain their rights.
In a survey conducted on a well-known website titled "What do you think of the Da Vinci Code in the apparel industry", 66% of the people's attitude toward this is "Resolutely boycott: lack of integrity, lifted clothing prices" by 8% The attitude toward this is: "Reluctant to accept: knowingly and pedantic, but other options are less." 26% of people have this attitude: "It does not matter: expensive or cheap, can afford to like it."
It seems that most consumers still scoff at the "Da Vinci" phenomenon in the apparel industry. Treat foreign brands, consumers should still be objective and rational attitude, do not be confused by the appearance.
Slip On Flip Flops,Mens Black Sandals,Mens Sandal Size 40,Black Flip Flop
Rubber Flip Flop,Beach Flip Flop,Slipper Co., Ltd. , http://www.evaslipper.com